PowerReviews' Social Curation offering allows you to gather Instagram UGC via specific @mentions and #hashtags; moderate the collected UGC; manage and request usage permissions for the UGC; match the UGC to a product in your catalog; and ultimately display the UGC in curated galleries on your website homepage, PLPs, and/or PDPs.
This article contains the following sections:
Enabling Social Curation
To get started, ask your Implementation Team or Account Team to enable your account for Social Curation. (It is a best practice to move 'bad' product records off of your PowerReviews merchant before enablement so that they do not appear in the Social Curation platform, which heavily leverages your product catalog.)
To access Social Curation, once enabled:
1. Log into the PowerReviews Portal
2. Click on Social Collection in the left-hand menu
Using Google Chrome: This browser features a single-sign-on experience, so you are already signed in.
Using Safari: You will be required to sign in again. To avoid this step again in future, select Remember Cookies upon re-signing in.




Product Feed
Once Social Curation is enabled, your Product Feed will automatically begin loading there; the feed updates every 24 hours on the Social Curation platform. If you need an immediate update to your Product Feed, contact your Implementation Team or PowerReviews Technical Support to initiate this manually.
If/when you remove a product from your Ratings and Reviews Product Feed, it will also be removed from the same feed that's being leveraged for Social Curation.


Collecting Content
This is a one-time setup process for content collection for your account(s).
To collect content from Instagram, you have a few options:
@mentions: Collect all content where your account is mentioned
Tags: Collect all content your Instagram account has been tagged in
Hashtags: Collect all content for specific #hashtags


To Begin:
1. Click the Create Campaign button.



2. Click the LOGIN WITH FACEBOOK button and log into your company's Facebook account.
(In order for Social Curation to function properly, you must be the administrator of your company's accounts.)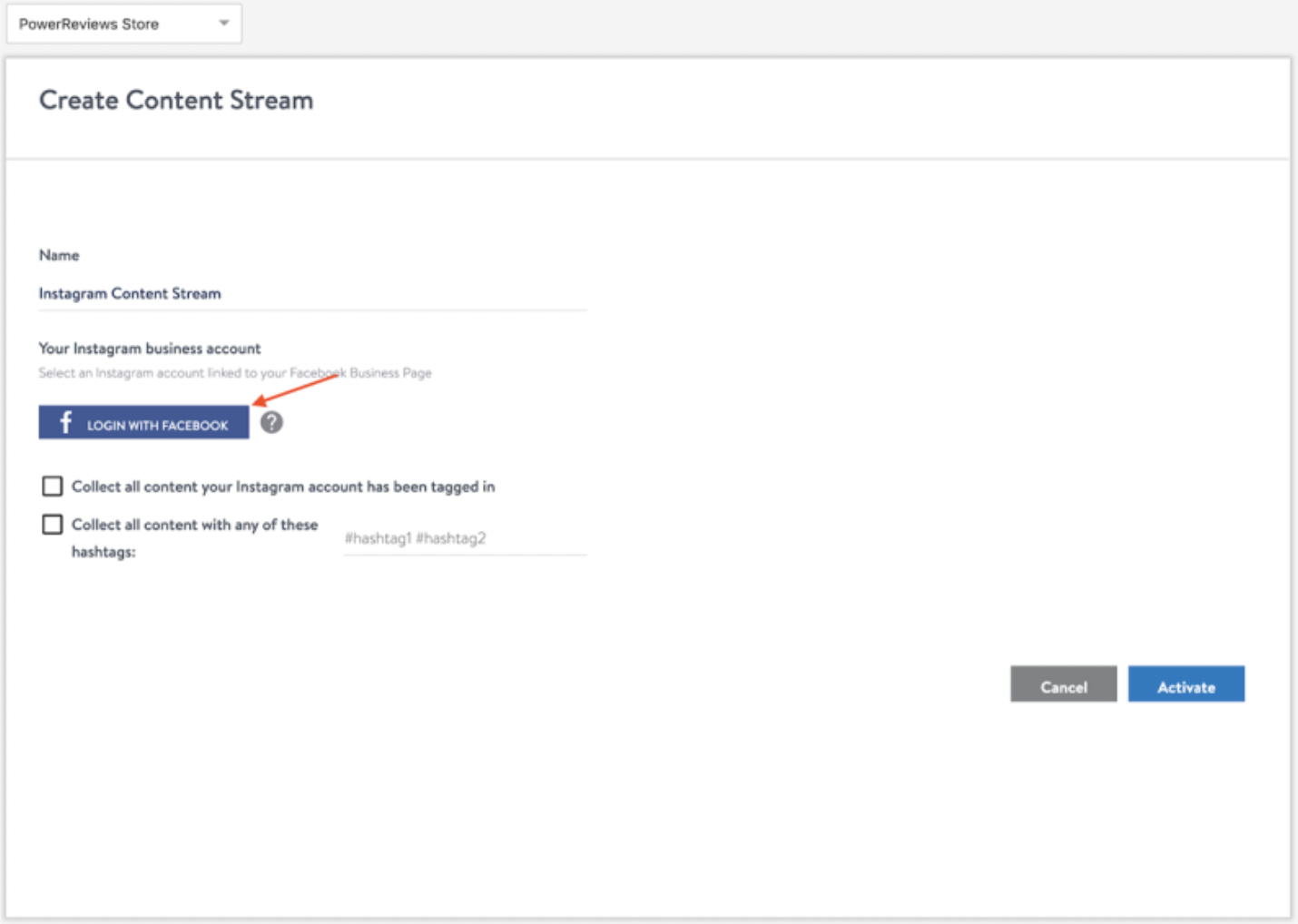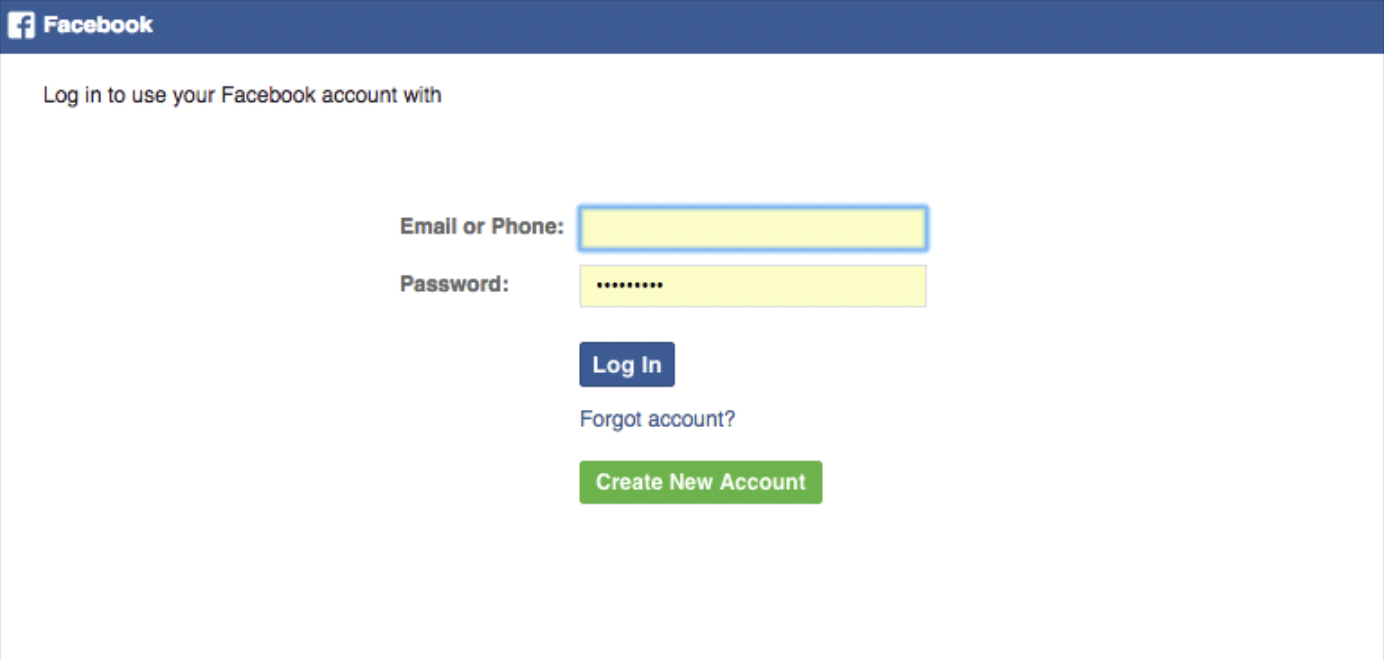 3. When prompted, choose the appropriate company Instagram handle and click Continue.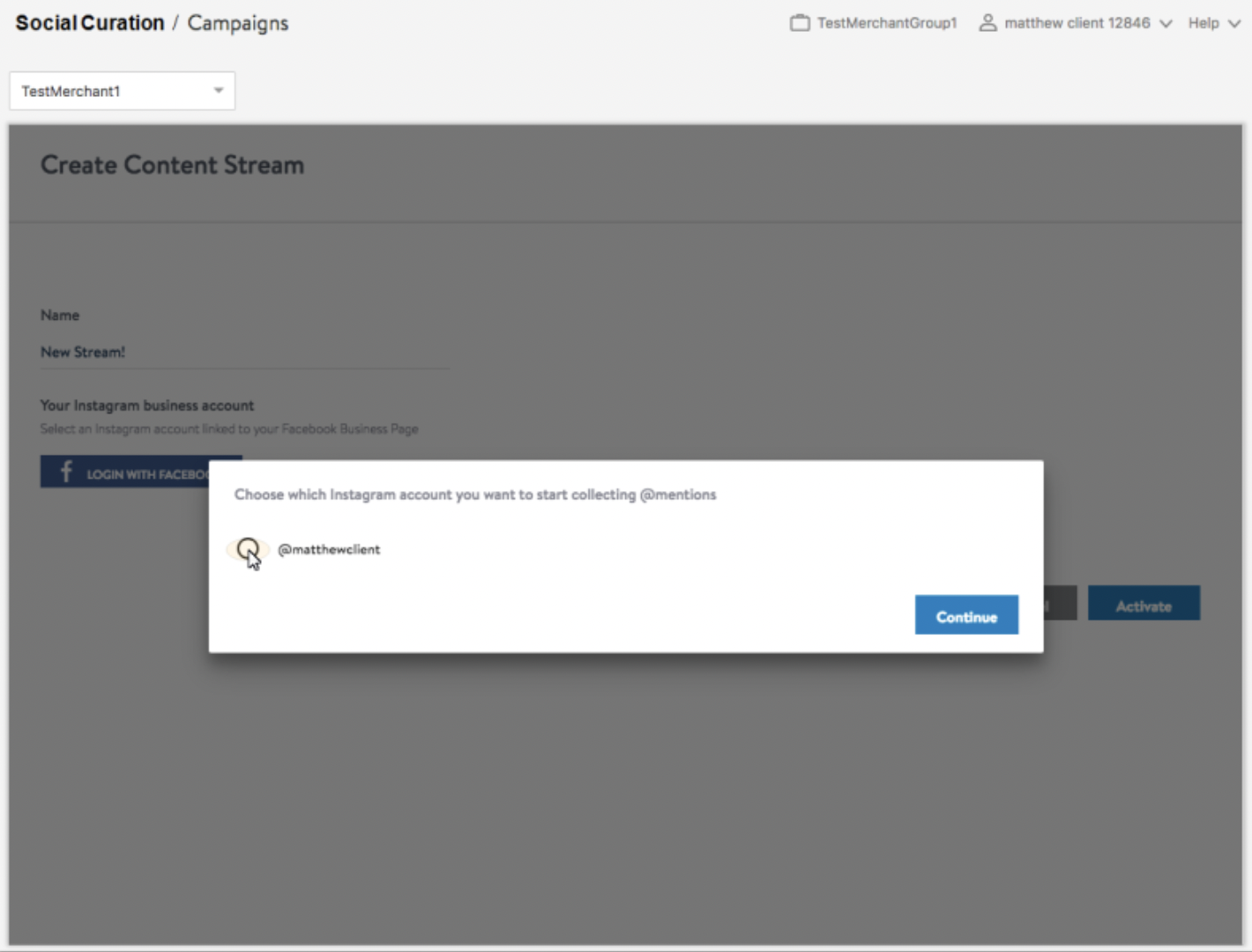 4. To collect tagged content (ie., when your account is tagged on the photo itself rather than with an @mention), check the Collect all content your Instagram account has been tagged in checkbox.
5. To collect hashtag content, specify one or more hashtags to monitor. Content containing at least one of the hashtags listed will be collected.


Example (Edit Stream):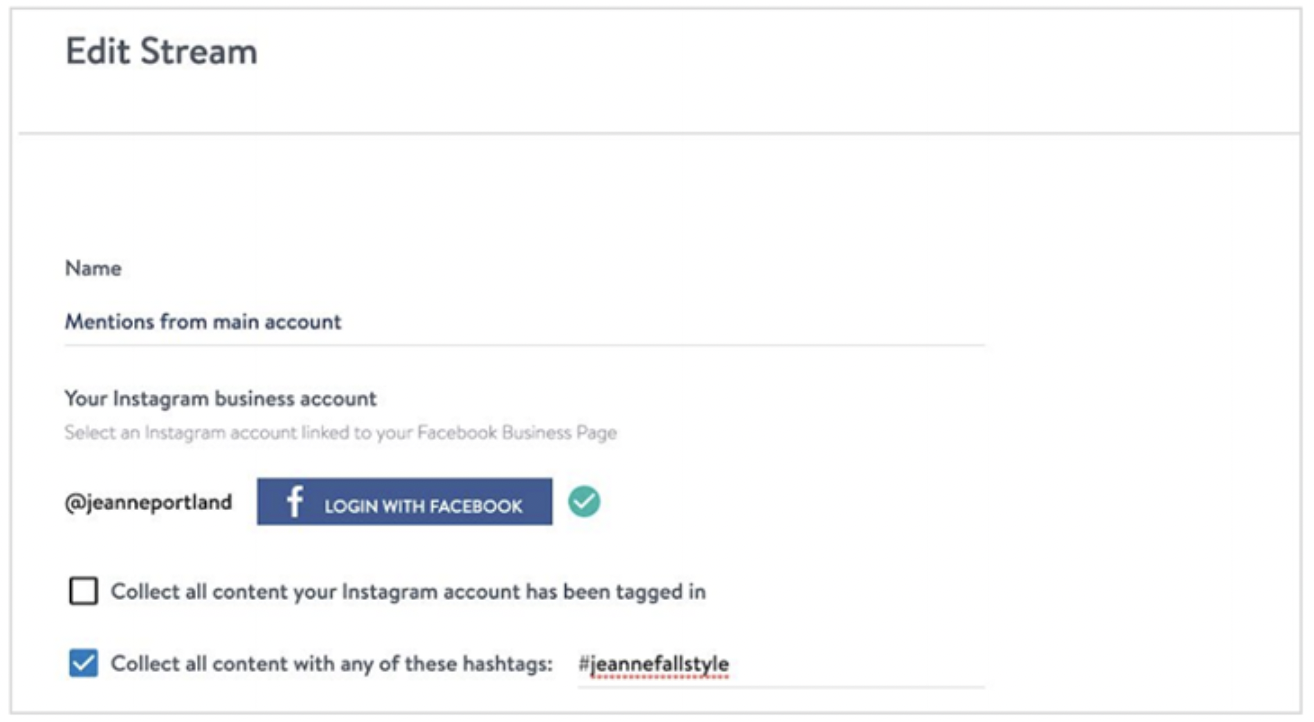 6. The new campaign will appear on the Campaigns page.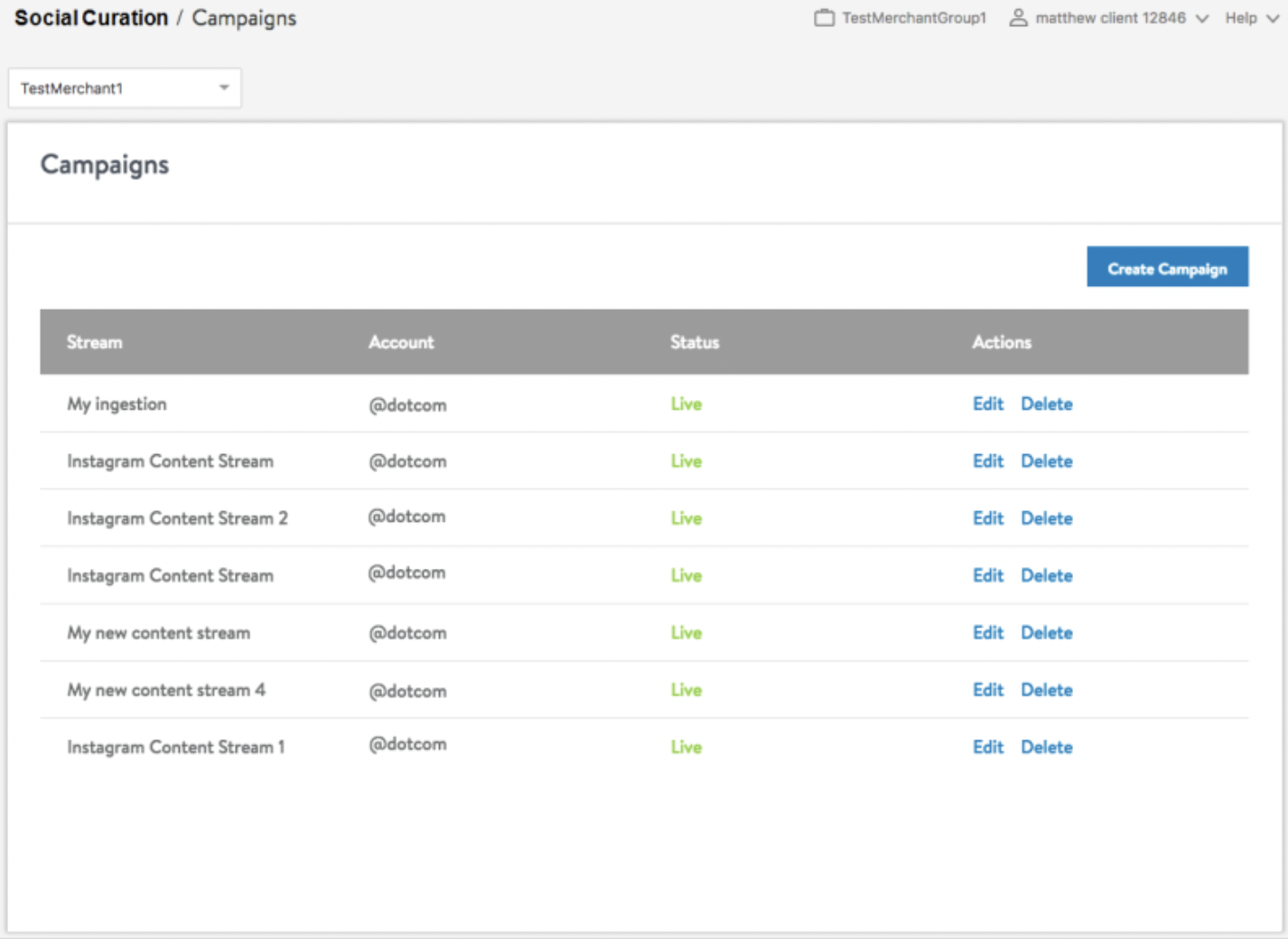 Images and videos will begin to flow into the Social Curation tool when users mention your brand or handle in their Instagram posts, as per your campaign specifications.
Non-English Language Support:
Campaigns can be run for any language or locale, but the Social Curation tool is only available in English.
The opt-in permission text should be localized during campaign creation. Your Account Team or PowerReviews Technical Support can help you update this.
Managing Content and Permissions
Once content starts to flow into the Social Curation tool and is actioned by you or your team, it will be in one of five mutually exclusive states:
Not Requested
Requested
Granted
Refused
Follow Up
The tool will display actionable content that includes an @mention from the author. When you or your team requests rights to a piece of content, the status will be changed from Not Requested to Requested. To respond, the original author of the post must comment back with an @mention:
If a comment contains an @mention and consent hashtag #YES, the content's status will be changed to Granted
If a comment contains an @mention and refusal hashtag #NO, the content's status will be changed to Refused
If a comment contains an @mention but does not have either #YES or #NO, or has both #YES and #NO, the status will be changed to Follow Up so that you can clarify with the author
Unless you want to follow-up, do not click on the permissions while asking for rights to the content.
Tagged and Hashtag Content
Users cannot post a request for rights directly from the Content Details page (Instagram only allows posts via API for content where the author directly @mentions the brand). However, the user can use a link on the Content Details page under the Permission to Use section to open up the content on the Instagram web app to paste the message and request rights.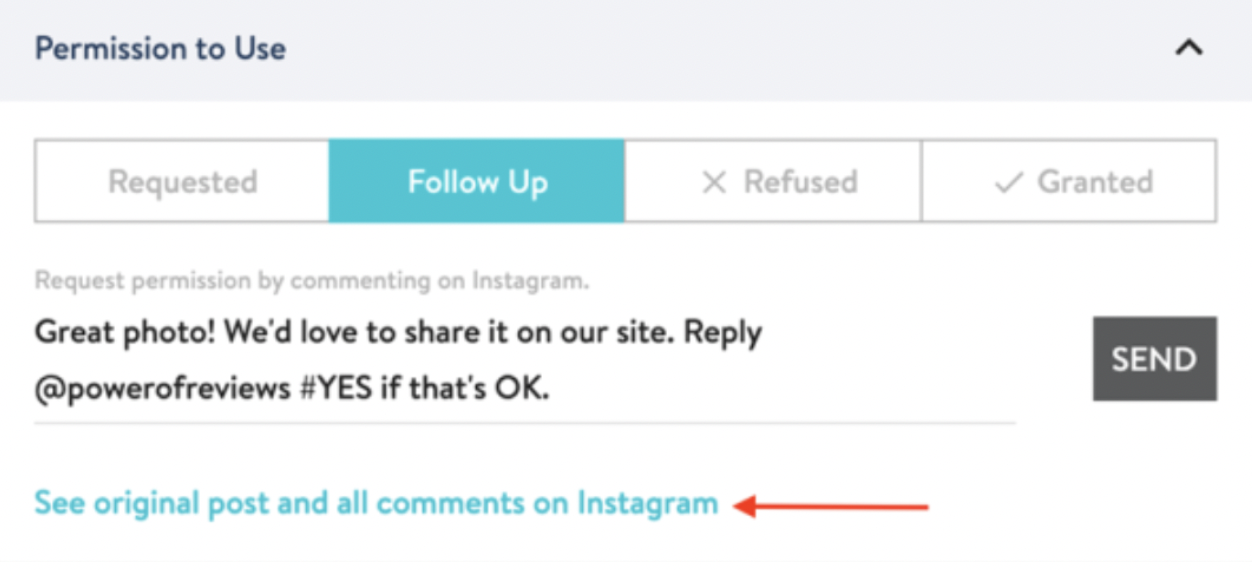 When the content author @mentions the brand when replying to grant permission, the Permission to Use status of the content will be updated to Granted automatically.
If you are on PowerReviews' Premium Social tier offering, our moderators will handle UGC moderation, user permissions, and product matching on your behalf.
If you are not on PowerReviews' Premium Social tier offering, these actions must be owned by you or your team. If you have any questions about which tier you are on, getting trained on the Social Curation tool, or any other related topics, contact your Account Team.
Automated Content Approval/Rejection
Content Rules allow you to create rules for Social Curation to Approve and Reject content from the following sources automatically:
Author by

(ambassadors, influencers, or other profiles you have relationships with to use their content)
Containing keyword, hashtag, or username
From Stream

(content gathered by any of the streams you have configured)
Each rule can contain 50 profiles or @mentions. You can name the rules, edit, add, or remove them.


To Begin:
1. Navigate to the Content Rules Page.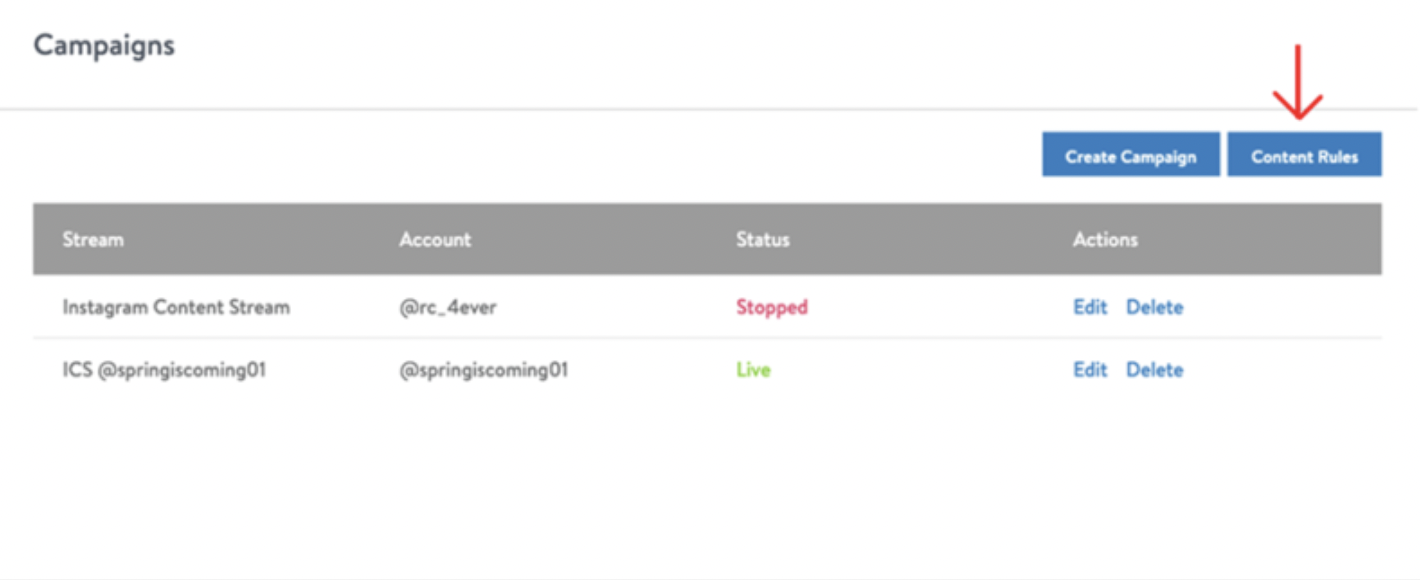 If there are no rules currently setup, the following page opens: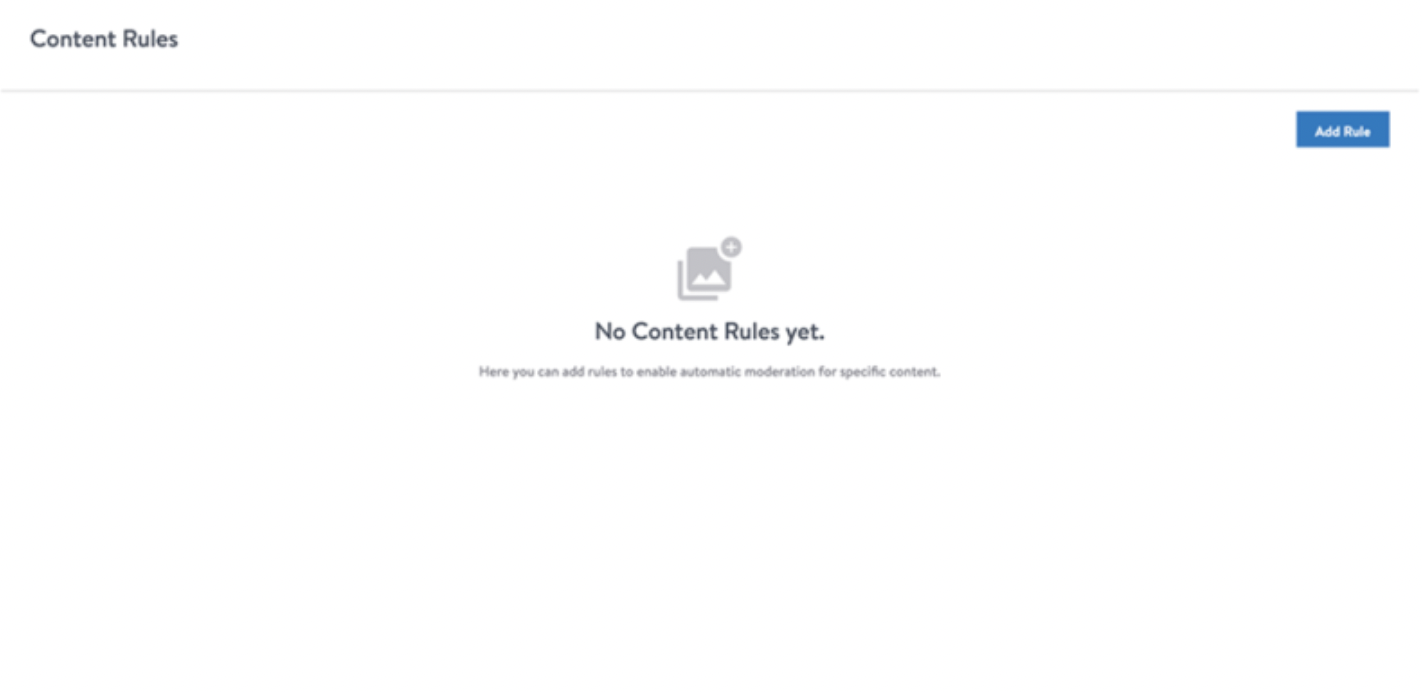 2. Add an Instagram Rule.
To add Rules by content Author:
Rejected: This automatically rejects Permission to Use by the added authors
Approved: This automatically approves content written by the added authors
Granted Permission to use: This automatically grants Permission to Use by the added authors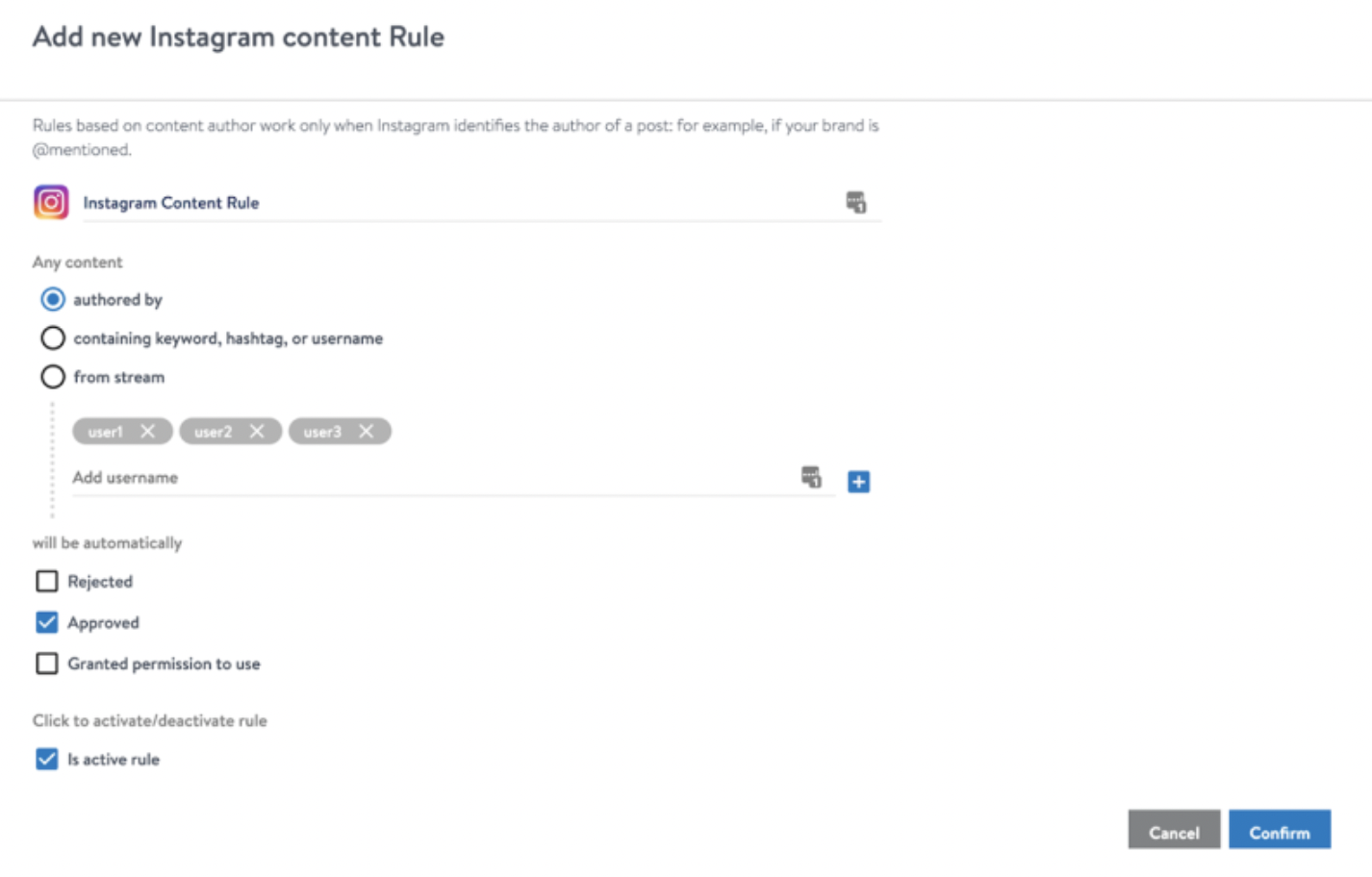 3. Edit a Rule.
To edit a pre-existing rule: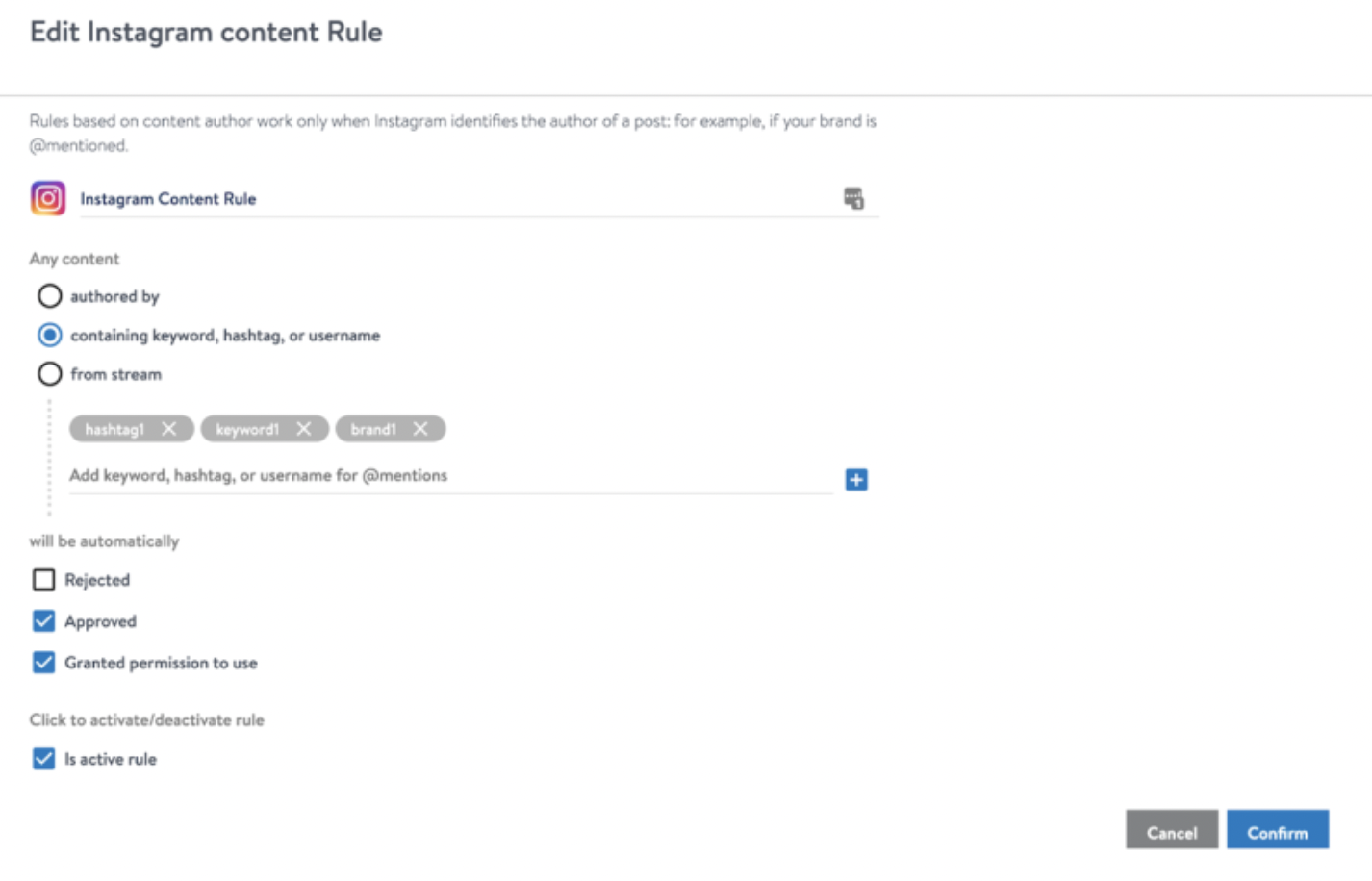 Example (Card with one Rule):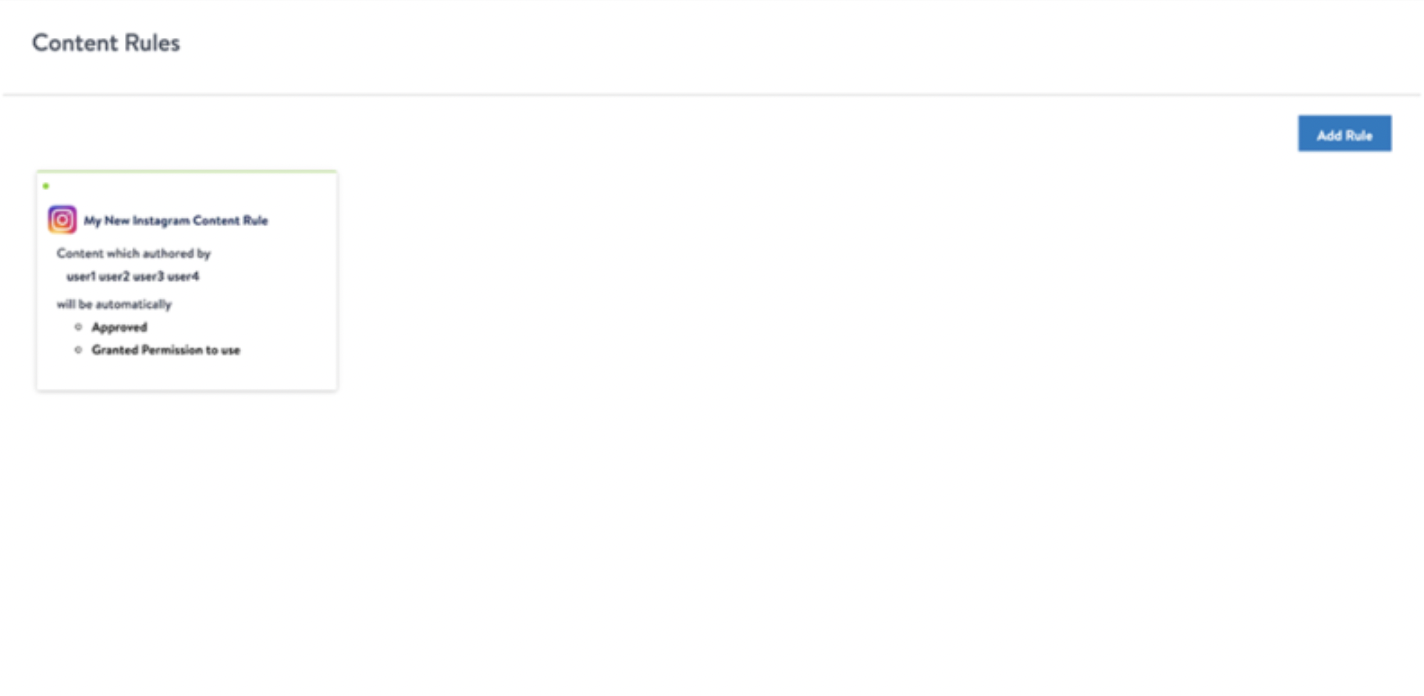 Display
Once the author has granted permission to use their content, it will be displayed in the Visual Content Gallery on the applicable homepage, PLP, and/or PDP. If the author granted permission (#YES) via your legal language request, you may also use that content in other marketing resources.


Example (UGC under Portal Moderation that was granted #YES permissions):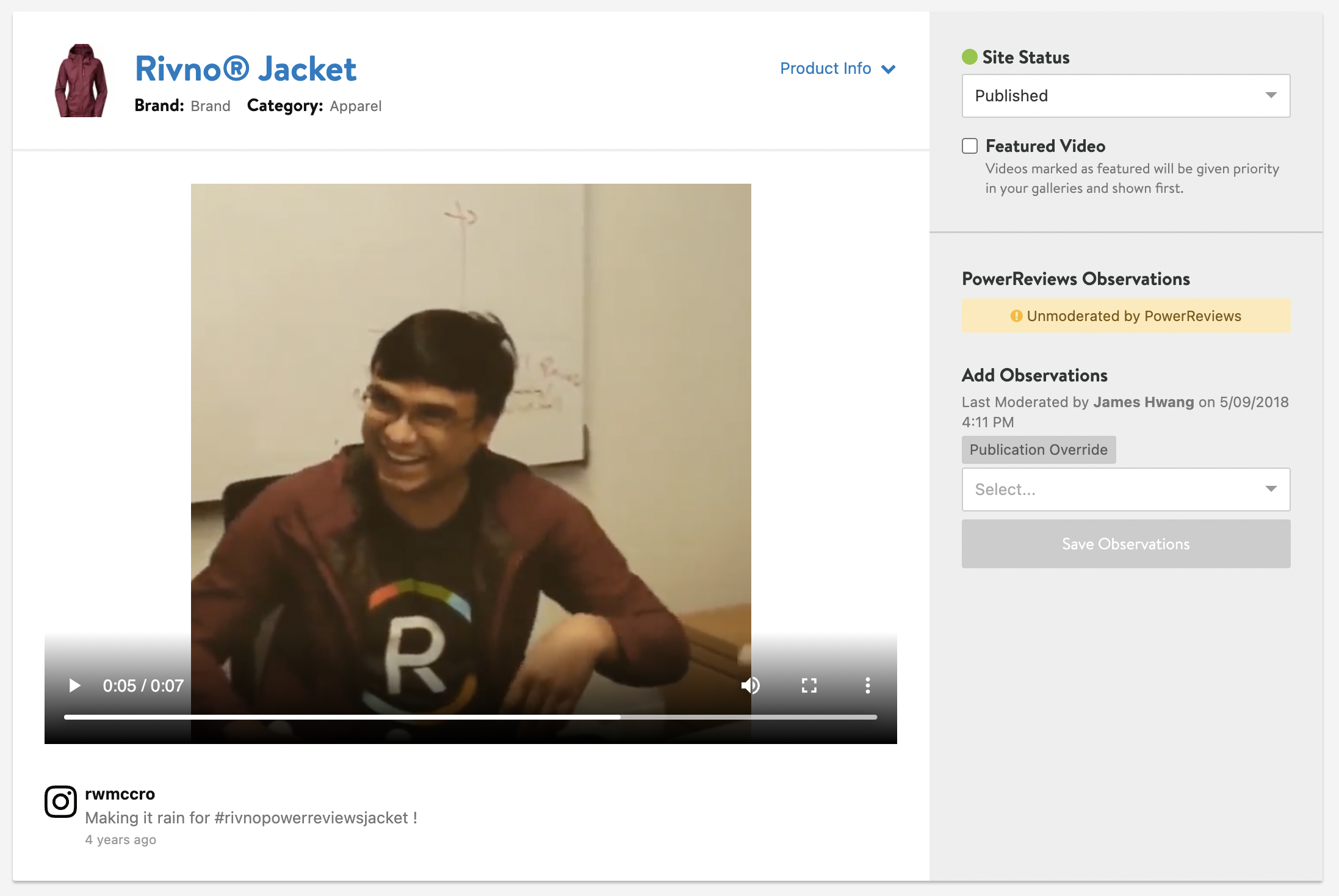 Reporting
Contact your Account Team for reporting data on the following:
Total pieces of UGC requested for Permission to Use
Total pieces of UGC granted Permission to Use
Total pieces of UGC matched to a product and live in a gallery




Best Practices
Choose unique and on-brand hashtags that resonates with your customers, and promote them in multiple places (don't forget to engage your influencer community!)
Utilize UGC tagging for all content collected in the Social Curation tool to make approving, rejecting, and product matching easier for you and your teams
Repurpose your collected UGC in other marketing campaigns and resources (if you've received #YES consent from the author)
Track the amount of content collected, approved, permissions granted, and products matched via analytics
For a deeper dive, please reference our Social Collection Best Practices Guide.