Before you can review, manage, and classify your Instagram user-generated content (UGC), you must first configure content streams and rules to pull this content into the Social Pro tool. To learn more about setting up content streams and creating rules, click here. To learn more about all steps in the Social Pro Experience Creation Process, click here.
This article contains the following sections:
Reviewing and Managing Content
Navigate to the Content tab at the top of the page. The first tab in the Content section is Manage, where you will see all of the content pulled into the tool based on the streams and rules you've set up.
As part of our Social Pro+ tier, PowerReviews handles requesting permission for images and assigning Conversion Units where applicable for the shoppable feature to appear within galleries (to direct a customer to a PDP when they click through an image in a gallery).
Classifying Content for Galleries
You have two options for classifying content:
1. Tags: Adding tags to content allows you and your team to categorize and surface specific pieces of content. Tags are the most flexible and simple way to classify content.
The top three uses for content tagging are:
Categorization - For grouping content by theme (ie., Mens, Womens, Sale, Children, New)
Bookmark - For internal communication and easy retrieval; particularly helpful with multiple moderators (ie., Finalist, Maybe, Winner, Favorite)
Classification - For identifying subjects, people, and moods for easy retrieval later (ie., Beach, Logo, Funny, Sad, Dog)
2. Taxonomies: To better streamline and control how you categorize content, taxonomy makes it easy to set up a standardized list of content attributes for that purpose, allowing for more structure than tags.
Adding a Tag
On the Content page, find an entry you want to tag. Hover over the entry and click to expand. On the entry view, scroll to Tags in the upper left hand corner. Type your tag and click the + icon.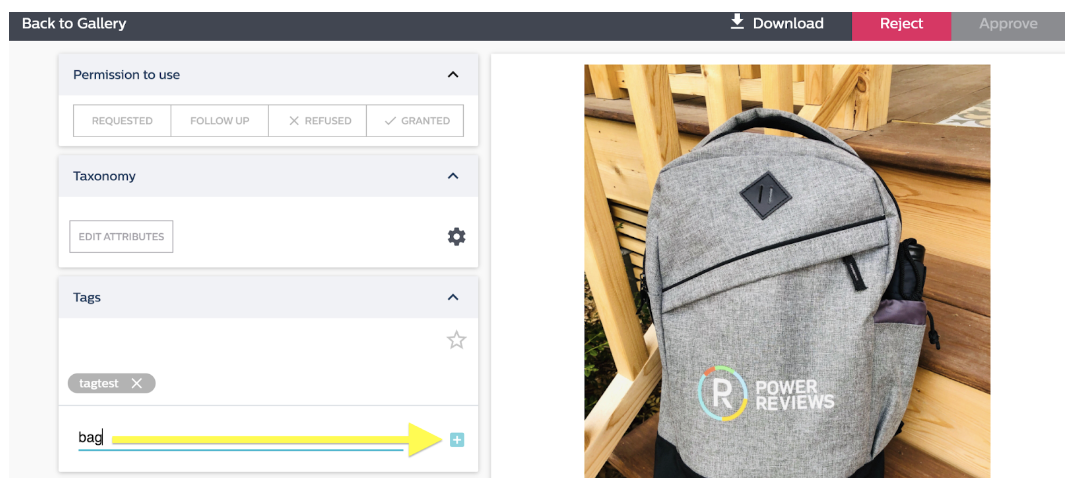 To add multiple tags, type a tag and press Enter. Then begin typing the next tag.
If you want to tag multiple entries at once, you can tag them in bulk following the steps below:
1. Go to Content > Manage tab




2. Make your selection




3. Click on the three dots More Actions menu (next to the Approve button)




4. Select Tag to add/assign the tag to the content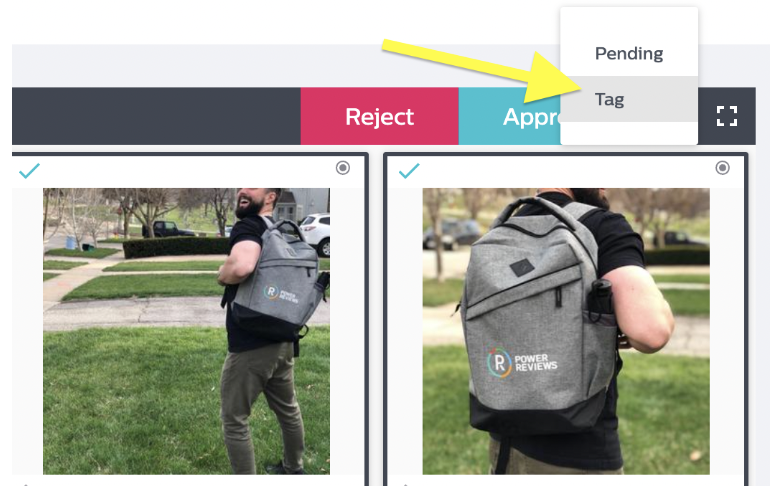 If you want to search for a tag, navigate to the Content page. In the left sidebar (Sort & Filter), click the Keyword button to reveal a filterable dropdown menu of options. Select Tag, type in the tag to search for, then click Enter.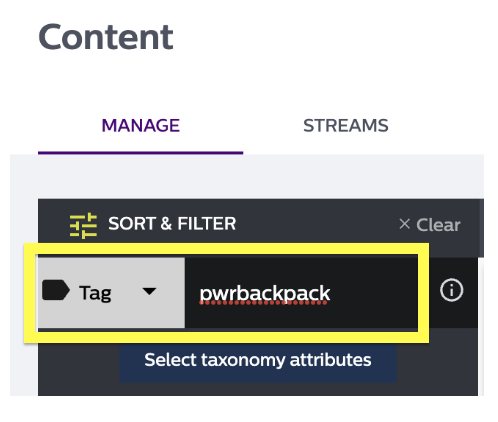 Tags can also be used for your own internal organization, sorting, searching, and filtering.
Feature Favorited Content
If you'd like to prioritize or feature certain pieces of content over others in your Experience galleries, there is a star icon that allows you to favorite content within the Tags box in the Content section as you view an entry.
To set a piece of content as a favorite:
1. Go to Content > Manage tab and click (expand) the content you wish to set as your favorite
2. Scroll down to the Tag section and click on the star icon
3. You will see the color of the star changing to yellow and a tag star-ugc automatically applied to the content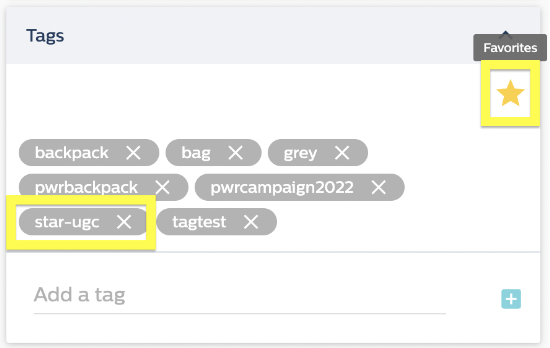 4. You can un-star content by clicking on the star icon (this will remove the star-ugc tag as well)
5. Ensure the Show favorite content first box is checked within the Content tab in the Flex Grid Component (click here to learn more about Experience Creation) for the favorite content to display first in the gallery/carousel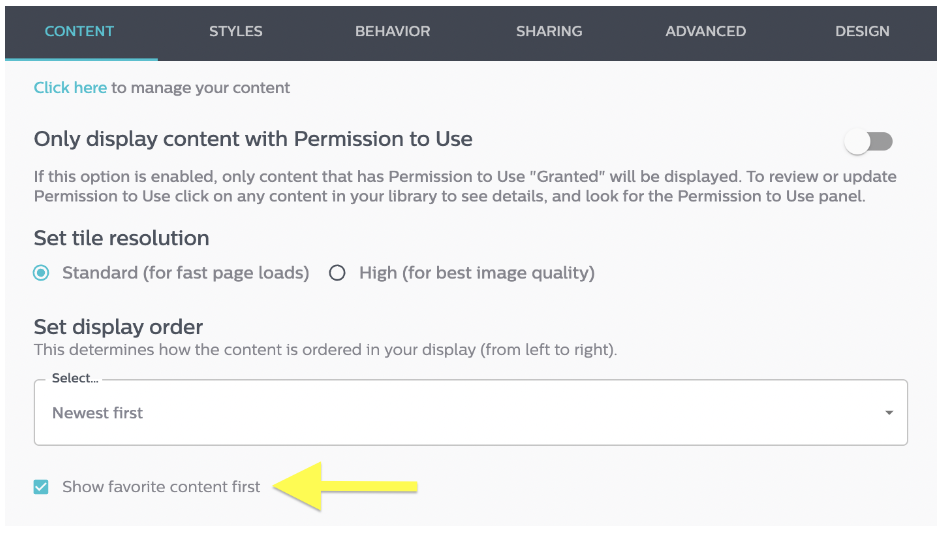 Creating a Taxonomy
Taxonomies make it easy to set up a standardized list of content attributes to better streamline and control how content is categorized. Admins can centrally control the taxonomy, adding as many attributes and values as they need.
To add an attribute:
1. Go to Content > Taxonomy tab


2. Click Add Attribute and enter desired values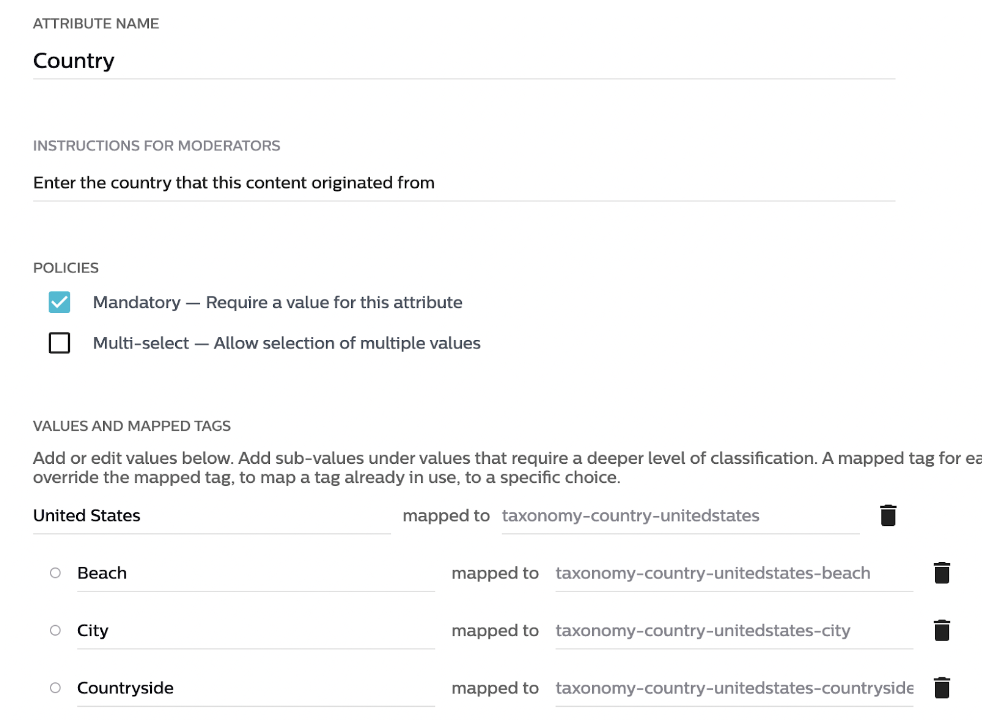 Attributes can be required or optional. Hierarchical attributes with values and sub-values are supported.

For moderators, taxonomy adds a new card in the Content Details view to see, discover, and update attributes, along with a new content filtering option in the moderation gallery.
Adding a Taxonomy
On the Content page, find an image to which you want to add a taxonomy. Click Edit Attributes and begin adding attributes to the image for classification based on how you set them up.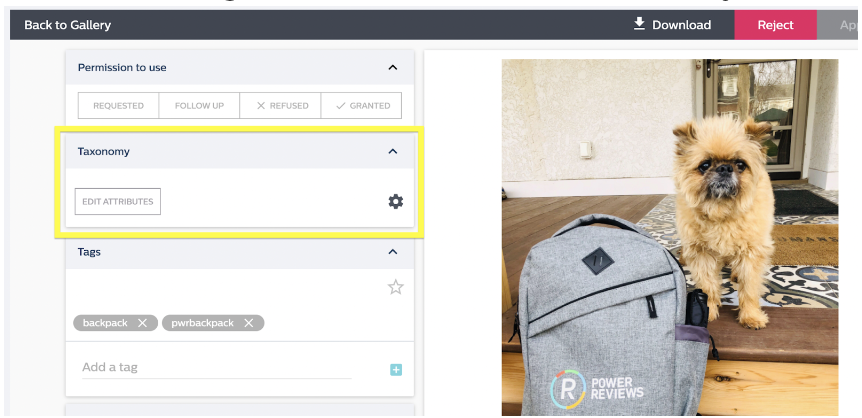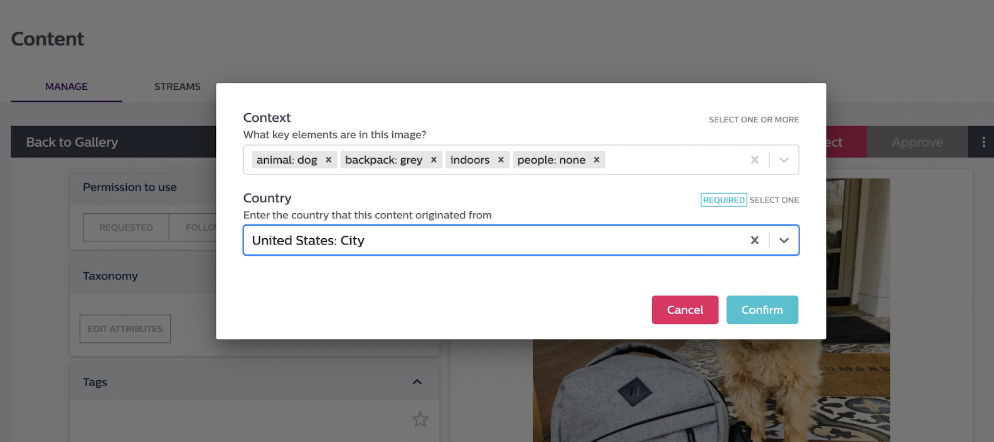 The taxonomy feature complements the existing ad hoc tags, which can be used in parallel; if desired, you can easily migrate your existing tags into taxonomy attributes.


Once you've reviewed, managed, and classified your content, you can create an Experience. To learn more about creating an Experience, click here.