The Brand Rank tab helps you quickly compare your brand(s) with competitors to see how your brand ranks in review performance and see where you can improve.



Filtering
The top left area allows you to filter by Merchant, Merchant Category, and Brand Name. The Focus Brand area enables you to enter in your brand of focus for this tab. The Long Tail Brand Consolidation fields allow you to tailor which brands display on the tab and which go into All Other Brands for the report analysis.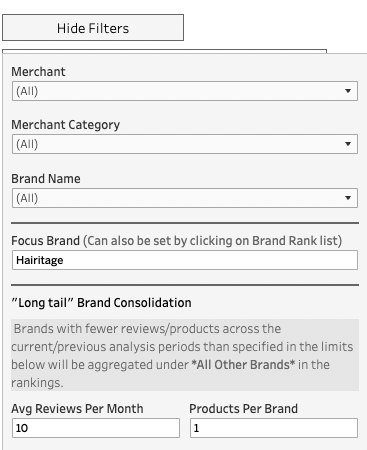 The filters across the top right of the tab allow you to customize by time frame, comparison type (period-over-period or year-over-year) and determine the end month and year for your analysis.



Health Score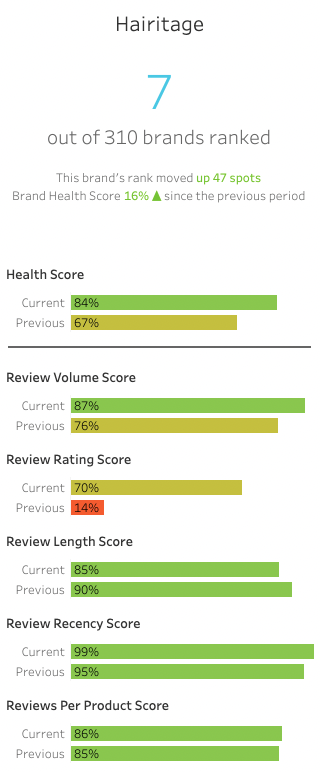 This section appears blank until a Focus Brand is selected.
Brand Health Score - This score is used to determine rankings of review performance, based on five weighted factors: review volume, review rating, review length, review recency, and reviews per product. It is expressed as a percentile.

Review Volume - Total number of reviews with comments for a given brand across all of its products in a given category. The more reviews a brand has, the higher it will score on this KPI.
Review Rating - The number of stars left in a review.
Review Length - The average character count of review comments. The longer the review, theoretically, the more consumer/brand value can be extracted from the comment and therefore the higher the score.
Review Recency - Measured by taking the median review submission date within the respective time period. This KPI ensures that the review content is relevant and recent to today's shoppers. The more recent the review, the higher it will score.
Reviews Per Product - Average number of reviews per product calculated using total review volume over the total number of products within a category. This KPI speaks to the consistency of review coverage for brands that have multiple products in the same category.



Brand Health Rank
The Brand Health Rank section allows you to compare your brand(s) rank versus the competition. Gain insights from the key KPIs that define the Brand Health Rank. Compare current period/year performance vs. the previous period/year.