The Display page shows detailed information on how your current display looks to your customers from an image and video perspective and how that impacts traffic on your website. This analysis includes all media that is currently Published on your website. Filter the reports by Category, Brand, and Page ID to focus on the level of detail that is most important to you. The date on this page is always from the perspective of when the image or video was Published, also considered the date it reached your display page.



Current Display
The Current Display section provides insight into how your display pages look from an Images and Videos perspective to your end customers. It summarizes how many images and videos you have displayed as well as what that means on a per product basis. The Media Type chart breaks down where your media has come from, such as Social Curation or Reviews. The Cumulative Media chart breaks down how your displayed media has trended over the last 6 months.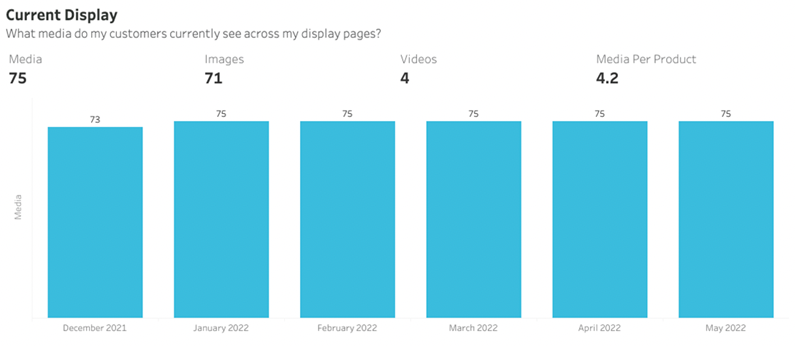 Media - Count of images and videos displayed on your website
Images

-

Count of images displayed on your website
Videos

-

Count of videos displayed on your website
Media Per Product

-

Average number of media displayed per product on your website



Coverage
The Coverage section provides a more detailed analysis into how this media is distributed across your product pages and the effect it has on traffic. The amount of media on each page can heavily influence not only the trust a customer has in the product, but also the search engine ranking of the page and traffic.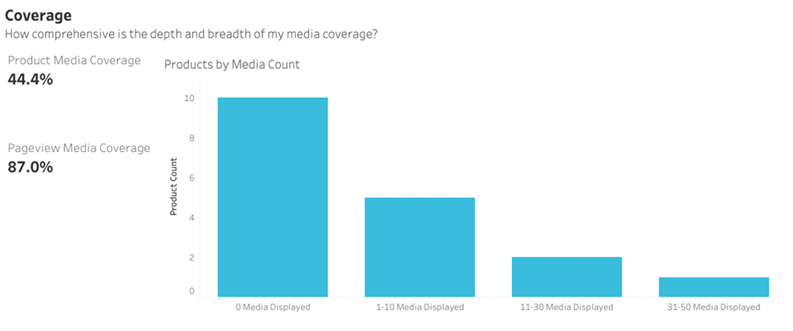 Product Media Coverage - Percentage of products that have at least one Published piece of media
Pageview Media Coverage

-

Percentage of pageviews that were on pages with at least one Published piece of media