The Observations page provides a detailed analysis of the moderation Observations applied to your natively collected reviews. This includes which Observations are most heavily applied to Published vs. Unpublished reviews, the publication breakout by star rating, and the number of Observations applied per moderator.



Site Status
The Site Status section provides a look at the breakout and trend of your natively collected reviews' site status. The pie chart shows what percentage of your reviews collected are Published vs. Unpublished. The trend chart shows the number of collected reviews Published vs. Unpublished by month. You can drill down to week/day level or up to quarter/year level by hovering on the date axis and toggling. The bar chart shows the percentage of Published or Unpublished reviews by each star rating.



The following two definitions apply to this and all following sections of the Observations page:
Published - Reviews currently displayed on your website product pages
Unpublished - Reviews currently awaiting moderation or with rejected status



Unpublishable Observations
The Unpublishable Observations section shows which Observations are applied exclusively to Unpublished reviews. This chart is sorted by volume of Observations applied.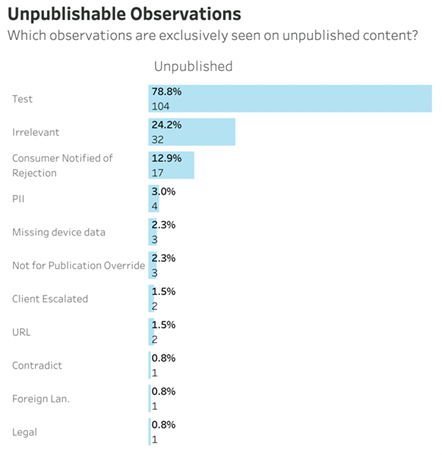 All Observations
The All Observations section shows all Observations applied to natively collected reviews, and is broken out by publication status. This chart is sorted by volume of Observations applied to Unpublished content.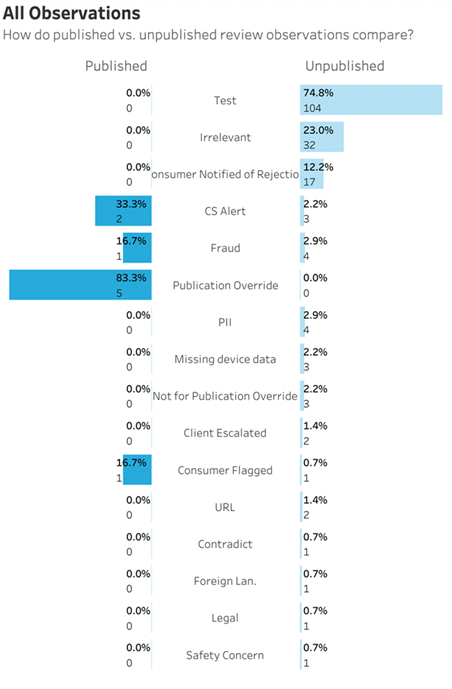 Click on an Observation to filter the rest of the dashboard and to link out to the Reviews Data Explorer report filtered by reviews with the selected Observation.



Moderators
The Moderators section shows the number of reviews to which each moderator applied Observations, with a color breakout to show how many of those reviews are Published vs. Unpublished. The chart is sorted by volume of reviews moderated.


Average Time to Moderate (hours) for this report uses the date that the ugc is ingested into PowerReviews' system for data around or after November 14, 2022. This is calculated using the date the ugc was created for historical data before November 14th.