The Trends page tracks how native collection KPIs have performed over time, as well as comparing these metrics to a prior period. This page also draws attention to specific Products, Brands and Categories that are doing well with native collection or have opportunities to improve. By highlighting specific strengths and weaknesses within your reviews collection, the Trends page surfaces important and actionable insights.
Review Trends
The Review Trends section houses important metrics of your native collection and compares them to the prior period. This means that if the 6 month analysis period is picked, the current period is the last 6 months, which is compared to the prior period of the preceding 6 months.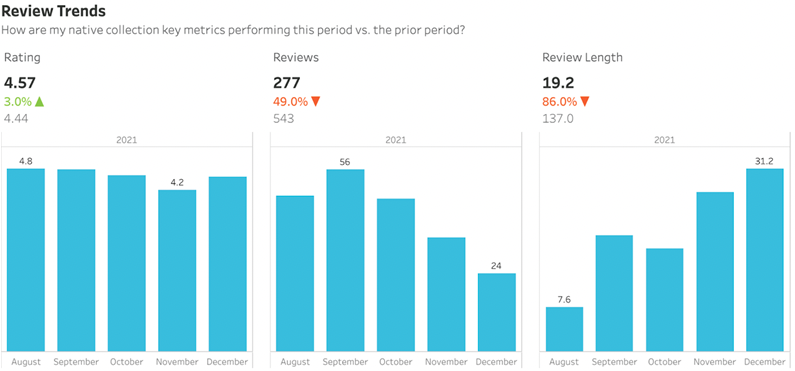 Rating - Average rating of all natively collected reviews
Reviews - Count of all natively collected reviews
Review Length - Average number of characters of natively collected reviews



Highest/Lowest Rated Products
The Highest/Lowest Rated Products sections show you the highest and lowest rated products for reviews natively collected in the analysis period. Use the Level of Detail filter to see your highest and lowest rated Products, Brands, or Categories. You can also change the Highest and Lowest Average Rating cutoff filters and the number of rows (Show N Rows filter) to tailor what you would like to see.