Customers can return to and update their reviews following an experience with your Customer Service team and/or your products. If your team frequently interacts with customers who leave low ratings or confusing reviews, your team can engage with them to update their review once their issues have been resolved or questions have been cleared up.
In order to take advantage of this feature, you must have Merchant Response Email Notifications enabled for your account. Please contact your Account Team or PowerReviews Technical Support for enablement, and be sure to include the generic reply-to email address you would like to use that all replies from your customers will come to. If you do not provide a reply-to email address, the system will send the replies to the email of the user who wrote the initial Merchant Response.
This article contains the following sections:

Review Update Process
1. Before requesting an update to a review, you should ensure that the customer has worked with your Customer Service team and that their issue has been resolved.
2. Once you are ready to solicit an update request, log into the PowerReviews Portal and click the Request Review Update button in Moderation on the original review.
3. Enter a personalized message for the customer, requesting that they update their review based on their most recent experience with your team.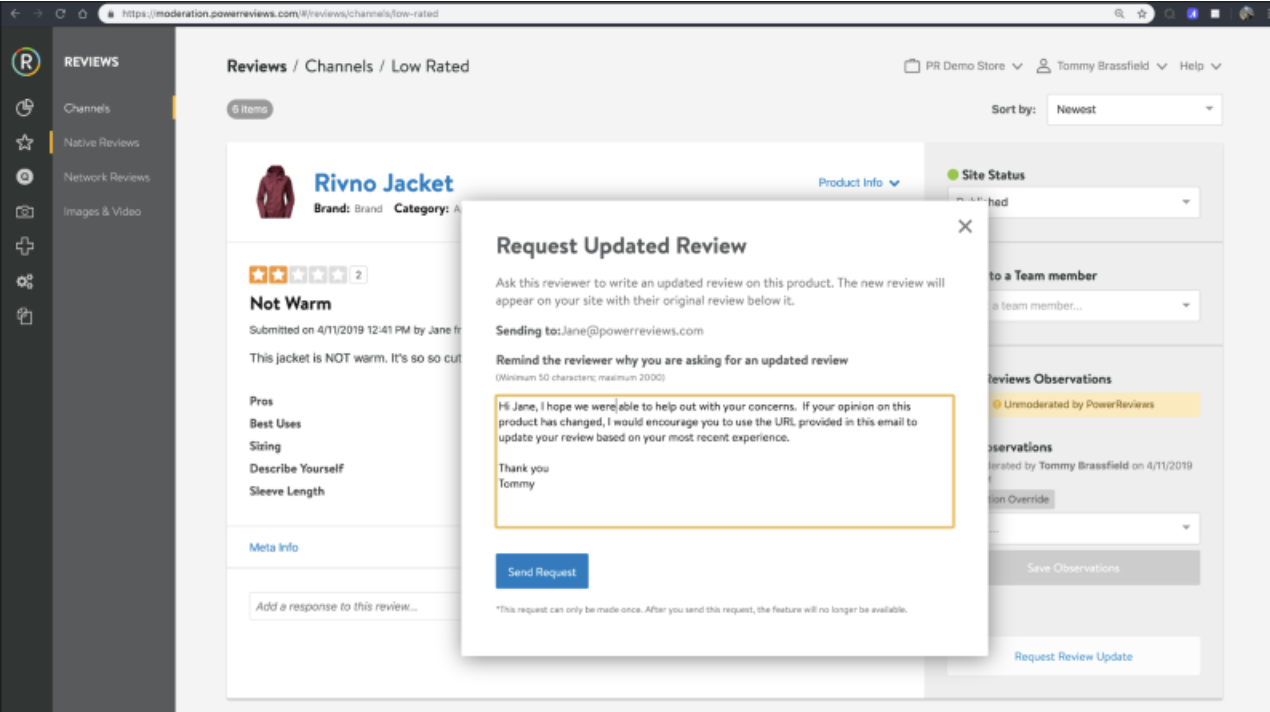 4. The customer will receive an email notification with the request to update their review. This email includes a link to an editable Write-a-Review form with the customer's original review information pre-populated and some additional information. The customer will be able to update all of the content in a new, updated review form with the exception of the following:


Example (email notification):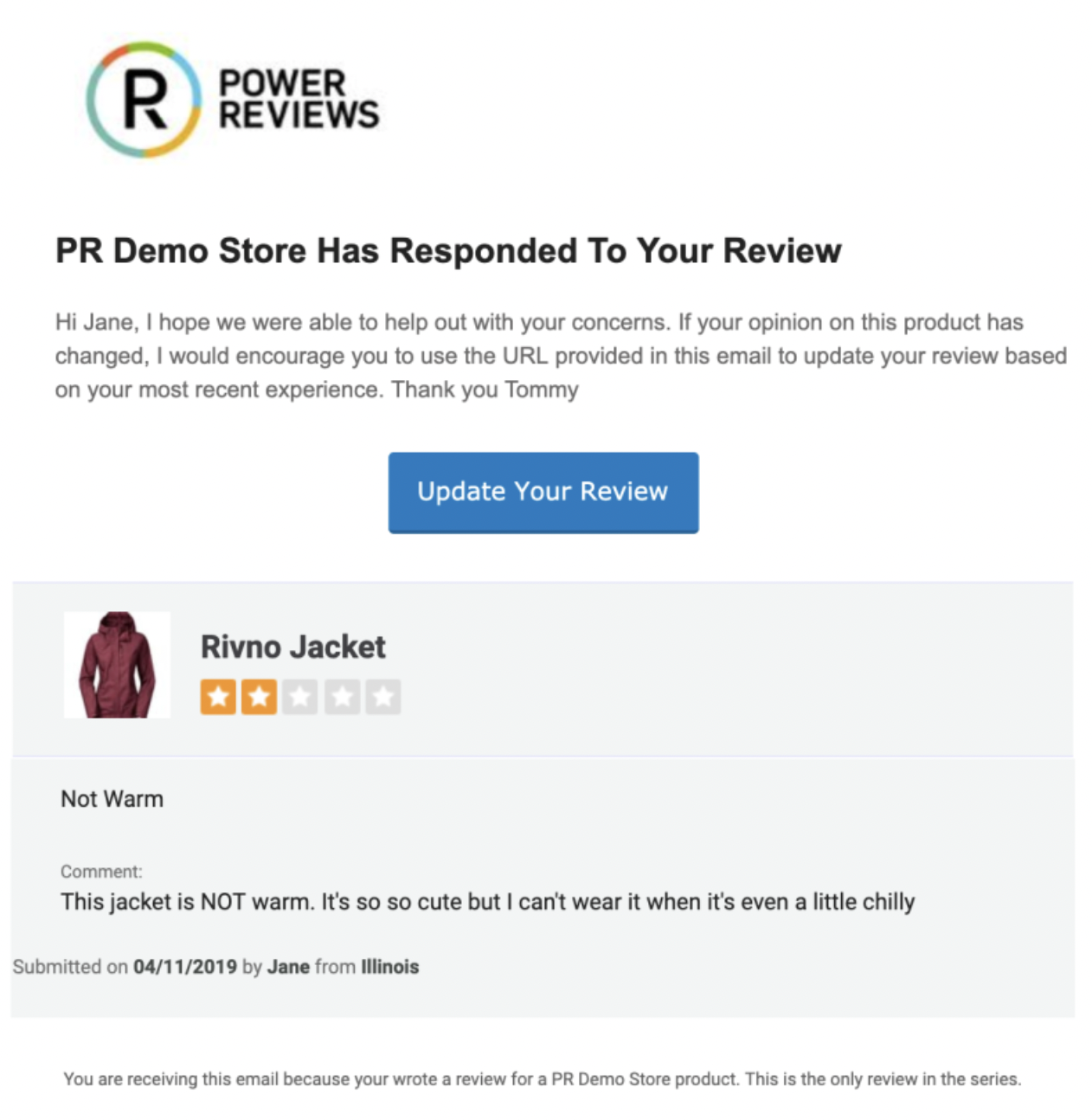 Example (editable WAR form):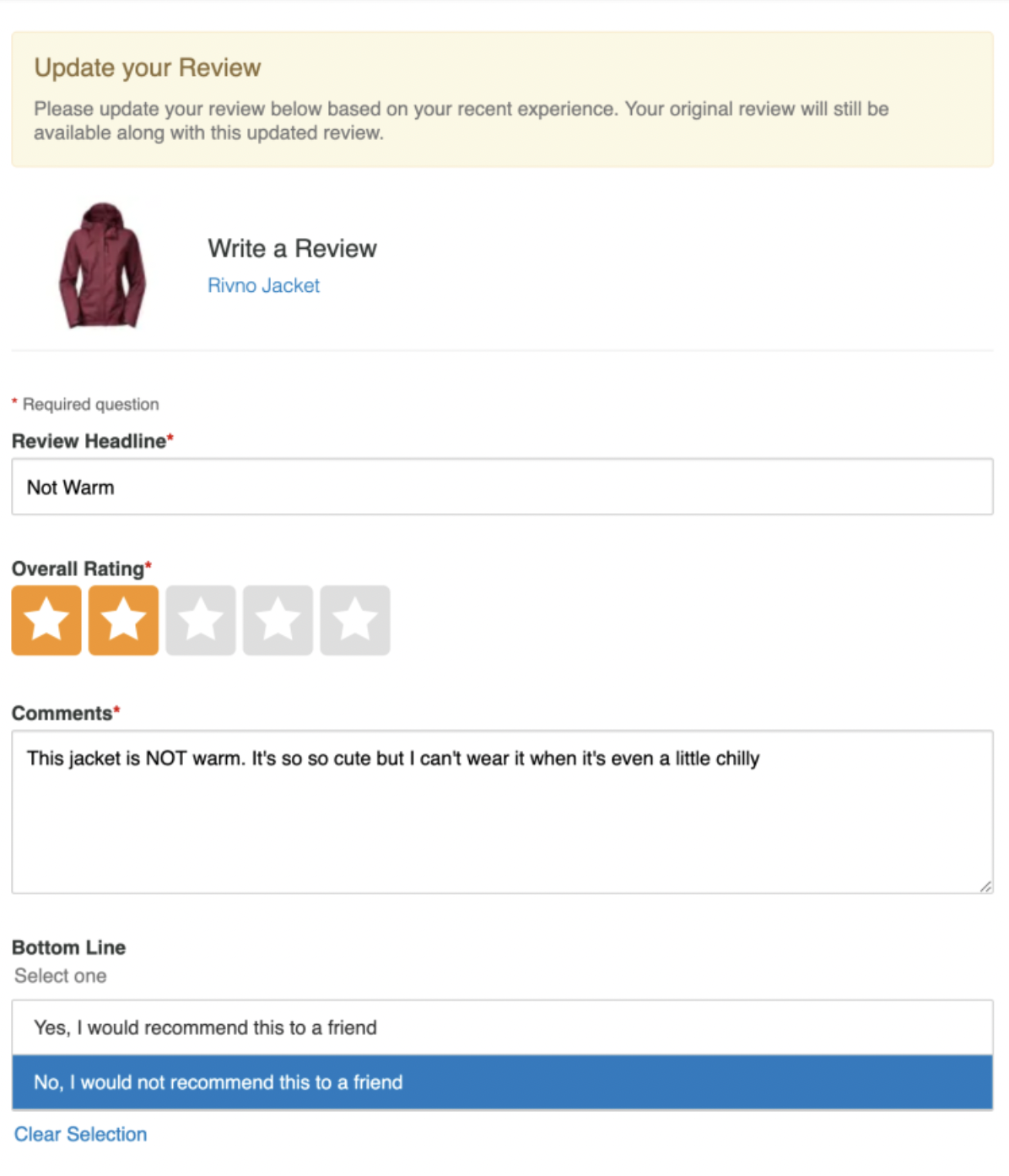 Any images included in the original review will not display in the updated review WAR form, but the customer can add new images to their updated review.
Moderating Updated Reviews
There is a channel/worklist in Moderation that allows you to quickly review any updated customer reviews. This channel can be used as a worklist and can have alerts assigned to it.
The card for the review will display the edited review to the moderator, with a link to the original review.
Updated Reviews in the Review Display
The new, edited review will appear in the PDP Review Display as if it were a normal review.
It will also include text at the bottom stating This is an updated review, with a link to read the original review for transparency and additional context.


Considerations
You may only request an update one time for each review submitted
Updated reviews do not qualify for outbound syndication
Original reviews that were previously syndicated will not update on the site(s) they were syndicated to; updated reviews will only reflect on your PDPs
The star rating for the original review will not be factored into the aggregate product rating if an updated review is submitted