If your customer support team is currently using Zendesk to handle customer issues, you can easily configure PowerReviews to create tickets for new reviews or questions as they come in. To enable this integration, follow the guide below.
This article contains the following sections:
Add Your Zendesk Email to PowerReviews
To begin, find your Zendesk email channel. The email channel is usually under the Admin icon in the Zendesk navigation menu. For the PowerReviews integration, you can either use an existing Zendesk email or create a new channel. For the most up-to-date and in-depth information on this process, please see this Zendesk help article.
For the rest of this example, we will use reviews@powerreviews.zendesk.com as our Zendesk email.
Once you have your Zendesk email:
1. Log into the PowerReviews Portal
2. Click Account in the left-hand menu
3. Click Manage Users
4. Click Add New User and enter the following information:
First Name: Zendesk
Last Name: Integration
Email: Your Zendesk email channel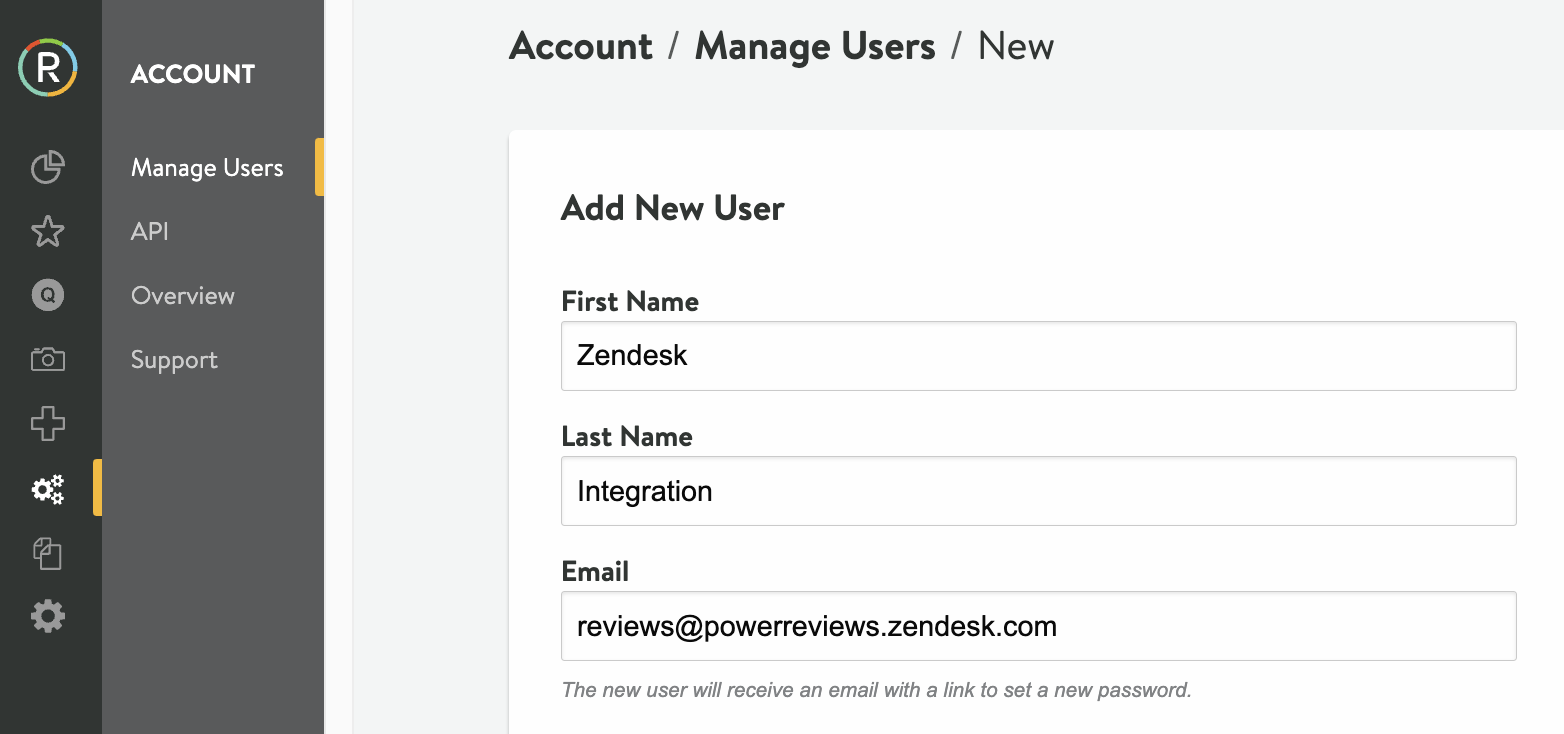 5. Select the Merchant Groups you want from the available list
6. Choose the Moderation content types you want:
7. Click Save
Set Your Password
Return to Zendesk and look for a new ticket from PowerReviews, asking you to set your new user password. Look for the subject line: Set Your PowerReviews Password. This will be useful later if you wish to return and change any configurations.
Set Your Email Notifications
To setup your email notifications, navigate to either the Reviews Channels or Questions Channels screen within the PowerReviews Portal. From there, choose what channel(s) you wish to receive email notifications for and click Manage Users & Alerts. Select your new Zendesk Integration user, and choose the Individual Alert option to ensure each piece of content that comes in will trigger an email. Be sure to click Save when you are done.

Manage Channel Content from Zendesk
PowerReviews will now send an email to your Zendesk email address each time a new piece of content comes into the channel(s) for which you've configured the email notifications. This in turn will create a ticket in Zendesk for that individual piece of content. Your agents can now update the reporter email address with the email the user gave PowerReviews, if available. The Zendesk agent can also click a button to be taken to that piece of content in the PowerReviews moderation tool. This allows you to easily post a public Merchant Response to reviews, or answer questions your customers may have.