Brand Engage Alerts allow your team to subscribe to receive emails when new user-generated content (UGC) is available within a Channel. This allows you to promptly review and take action on the content you care about.



To Enable
1. Log into the PowerReviews Portal.
2. Visit the Channels screen in Brand Engage. This is accessible by clicking the Q icon in the left-hand menu.
3. Click Manage Users & Alerts on the Channel(s) for which you want to receive alerts.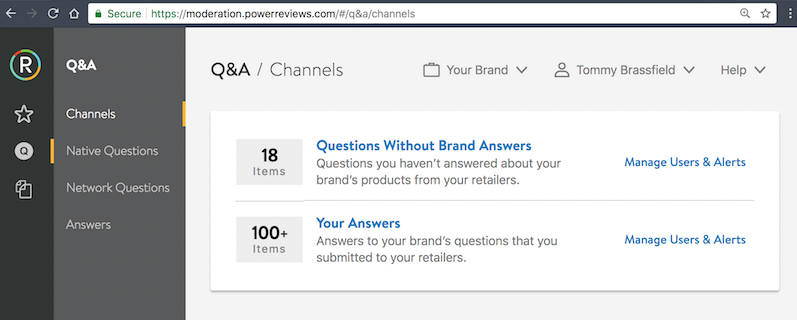 4. Select the users you want to receive email alerts, and the frequency they should be delivered.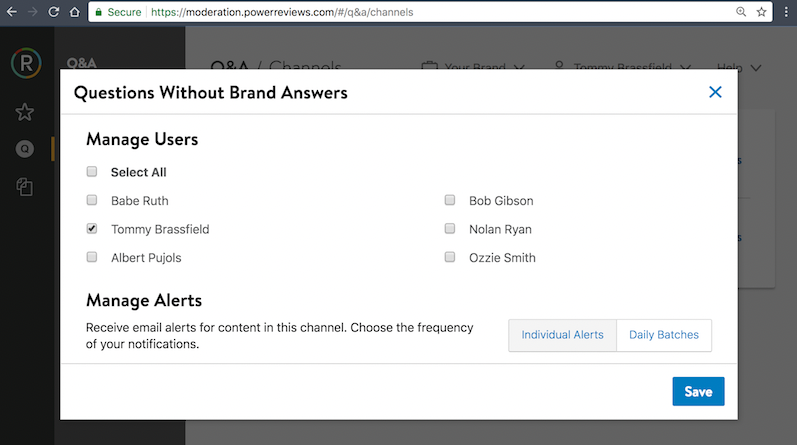 5. Click Save.



Other Notes
Emails will be sent from donotreply@powerreviews.com. Please whitelist this address.
You will receive a separate email for each Channel you are subscribed to.
Emails can only be sent to users created in your PowerReviews Brand Engage account.
Frequency options:


Individual Alerts - sends an email for each piece of content received in a Channel
Daily Batches - sends one email for all content received in a Channel every 24 hours, or after 25 new pieces of content have been added to the Channel (whichever comes first)