PowerReviews moderation protects your brand and its identity by reviewing every new piece of user-generated content (UGC) submitted on your website.
However, customers can sometimes find that their UGC is flagged as Unpublishable per PowerReviews' moderation guidelines, resulting in frustration or mistrust. To alleviate these concerns, PowerReviews offers Moderation Notifications that give the customer insight via email as to why their review was marked as Unpublishable. The email notification also includes a link to write a new review for the same product, giving the customer a chance to rectify the issue.
The following is a list of the Unpublishable Observations that will trigger a Moderation Notification email:
PII (personally identifiable information, such as a full name)
Contradict
Irrelevant
Retail/Comp
Price
For instance, this review was written by a person giving their full name (Sir Patrick Stewart), so it was flagged for PII and not published. The customer received the following Moderation Notification email: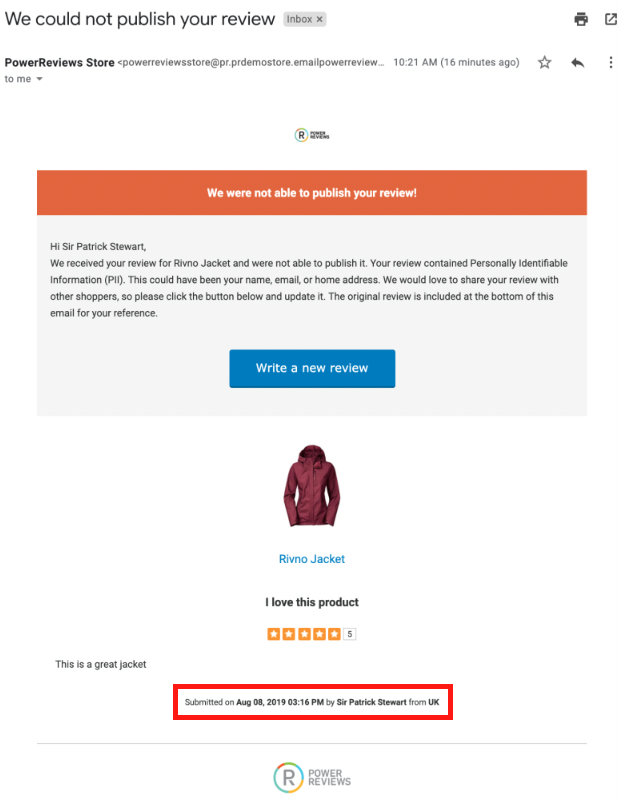 To learn more about Unpublishable Observations in detail, reference our Moderation Glossary. To enable the Moderation Notifications feature, contact your Customer Success Manager.